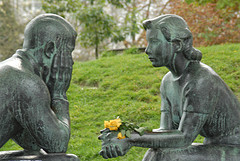 Ted and Betty (not their real names) came as a couple for counseling. Ted complained that he wanted more time to hunt with his buddies on the fall weekends.  Betty complained that she, too, needed some time with her girlfriends at the beach in the fall.  They had no children and had weekends to play.
Complaints are vital to the health of a marriage in order to offer clues about what gives meaning, and zest to the relationship.
Joan told me she complained to her husband that they had not taken a camping trip to their favorite lake in three years.  John heard the request and made plans soon after to take four days to camp at the lake.  Joan told me they had a wonderful time together renewing their relationship.
Ted and Betty were able to negotiate what weekends were best for each to go away with their friends. The time Ted and Betty spent with friends rejuvenated those relationships  and helped them to be happier in their couple relationship.
Healthy couples make complaints to each other to strengthen the relationship.  Complaints can be a way to say that something is not right in the relationship.
How has a complaint been helpful to your relationship?
3 Reasons Complaints Can Be Vital To Your Marriage
1.  A complaint can let you see the unmet need.  For example, Joan said "You have been working over fifty hours per week for the last year.  I need to spend more time with you."  I would suggest you share two or three positive things your partner does right before you make a complaint.  This way, complaints are supported against the positive and more likely to be heard.  For example, Joan could say instead "I know you have made more money this year, I appreciate the new car, TV, and going out to dinners. What I need is a few hours together playing golf on Sunday with our friends once a month".
2. A complaint can let you know when your partner is experiencing some stress.  A complaint can help strengthen your relationship when a unmet need surfaces between the relationship.  When a complaint is voiced, there can be hope the problem will be addressed and solved.  Stress can be reduced when a complaint can be discussed and resolved.
3.  A complaint is a sign one of you feels some discomfort and stress in the relationship that needs attention before a wider gap of disconnection occurs.  My experience is that it is easier to pull out a small weed in the garden than a large one.
Can you think of more reasons a complaint can be vital to your marriage?  What has been your experience in voicing complaints with your partner?
I believe, when a couple is able to bring up a complaint and it is discussed and resolved, then the equilibrium of the relationship goes back into balance, freeing up more energy for other interests and creativity.  Has this been true for you?
Send a comment.  Let's discuss how complaints can be vital to your marriage.