Mark and Jennifer (not their real names) were telling me recently how they argue about how much money Mark should spend on fast food and coffee during the work week.  They could not agree on any amount for Mark, so they just stopped talking about it.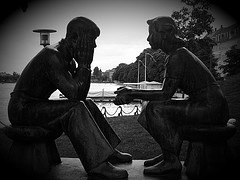 Jennifer was very unhappy with Mark's $450 per month fast food and coffee spending habits.  She just couldn't let go of thinking how much they could save a month, if only Mark would listen to her point of view.  After all, they could have purchase a family piano by now for her and the children to practice on.
Mark and Jennifer are both unhappy that the other one will not go along with how to spend and save money.
Meeting John
Last month I walked into a large office supply store without knowing where to find the items I wanted to purchase for my business.  I wandered down a few aisles.  A store worker named John greeted me and asked if he could help me find what I was looking for.  I said, "Yes, that would be great.  I have five items on my list."  He said, Go ahead and read them.  I read him the list: "Black and color ink for my printer, a four-drawer filing cabinet with a lock, a box of file folders, and file hangers for the new filing cabinet".
John looked at me with a smile and said, "Meet me over in the paper section and I will get you a cart for all your supplies."  I was relieved that I found someone friendly to help me.
Staying interested in the other to discover the need behind the problem
Jennifer and Mark did not ask questions to understand each others needs to save or to spend money.  They got stuck in not knowing how to communicate and did not get to the heart of the matter. [Read more…] about Getting Back On Track After A Miscommunication With Your Partner