There are many reasons why you may feel stressed out during this holiday season.  The lack of money, unemployment, health concerns, the breakup of a relationship, mourning the death of a loved one, or upcoming final exams can all cause stress.
Three Common Sources of Stress
A good definition of stress from the Wikipedia dictionary says "stress is a catch-all for any perceived difficulties in life".  It also lists three common sources of stress.
lack of control of our environment such as food, housing, or health issues.
having social issues like a breakup, death of a loved one, or a divorce.
life experiences like poverty, unemployment, depression or lack of sleep.
Stress Needs to be Managed
Most of us know that stress needs to be managed or it can cause physical and mental health problems. Here are some ways to get help from your partner and/or friend(s)  when you feel the extra stress of going through the holidays.
10 Tips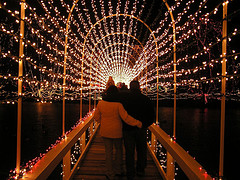 Here are 10 tips to having others (partner/friends) help you get through the stress of the holidays.
1. Remind them that going through this holiday season is putting more stress on you.
2. Tell them what you need up front each day because they can not read your mind.
3. Ask them to check on you by phone or email because it causes more stress for you to reach out to them.
4. Ask them to write the Christmas cards, bake cookies, plan the party, or shop for that special family gift.
5. Tell them when you need a hug.  Share your feelings.
6. Ask them to walk the dog or have them go with you.
7.  Ask for help planning the grocery shopping and let them do the shopping for you.
8.  Ask how they are doing and listen to them. It may lift your mood.
9.  Ask them do something fun with you during the holidays.
10. Write out your 2008 blessings list.  Ask them to write one, too.  Share them with each other.
And finally, let your partner and/or your friend(s) know how much you love and appreciate them with a card or a small gift.
Can you think of other ways to help your spouse/partner or a friend through the stress of the holidays?  Write a comment.  I would love to hear from you.
My best to you,
Paula