I help owners, trainers, riders, veterinarians, family members, and member of the community who are grieving the loss of a horse they love.
Healing your heart after owning, training, riding and caring for a beloved horse you loved who has died can be very difficult.
Your heart hurts.  You may wonder when will the grieving end and the heaviness in your heart leave.
You probably didn't realize just how bad the grief would be when you first met and developed a strong bond of love and care for this horse.
You probably knew it would not be to be easy to say goodbye someday.  Saying goodbye and letting go takes a lot of courage.  It's hard. You cry.
Crying is a normal part of grieving.  The more you love, the more your heart gets attached and becomes bonded with the other, in this case, with your equine friend.  You may wonder it it's okay to have loved a horse so much.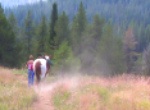 Healing from your loss can happen so that peace can return to your heart.
It's important to embrace the grief whether you been a rider, trainer, owner, veterinarian, or a member of the equine community so you can move forward from a goodbye to another hello with peace in your heart.
The process of healing grief has no one right answer.  However, what is necessary in any kind of loss is getting to the acceptance of the loss.
The amount of time of grieving depends on the depth of the relationship bond, especially if it has impacted you deeply emotionally, psychologically, financially, and spiritually.
At some point in the future, the heaviness of grief in your heart will lessen; however, you may have typical symptoms of grief such as sleeplessness, lack of concentration, forgetfulness, and feeling tired.
Sometimes people may want additional support to work through their grief and loss.
Do any of these situations sound familiar to you?
You've feeling like people do not understand the seriousness of losing your horse .

You've feeling like you don't want to burden your family or friends with more talking about the loss of your horse.

You want to share more of your loss and the depth of pain and need some help in accepting the loss.

Your feelings of depression and sadness are getting in the way of your relationships and work.

Your preoccupation with your loss of your horse is taking up more time than you want.

You are drained and "burned out," emotionally exhausted from experiencing many losses in a short period of time.
If you are in these or other similar situations, I can help you.
If this is you and you are ready to get help grieving the loss of the horse you loved, you can start by contacting me for a
FREE 50 minute initial counseling session

called "Healing Your Heart".

click here

In this session you will receive
8 important ways on how you can help others to help you through grief

23 powerful ways to help yourself in getting through grief

34 tips for reducing stress

your next steps for healing your grief
For more information about my services click here.
If you have any questions or comments, please do not hesitate to contact me by e-mail click here or you can call me at 503-873-3608 or 503-263-5599.